Recreational Boating Information for the Northwest

Find Marinas, Fuel Docks, Boat Yards, Dealers, events and more at Norhwest Boating Information. Morrison's Fuel Dock on Lake Union. Boat Registration, Underwater Music Festival, Oil Changes and Pump Outs,  boaters education card, boating, yachts, events, seattle, puget sound boating, lake union, lake washington, sailing, boat yards, service, haul outs, gas docks, gulf islands, san juan islands, festivals, marine insurance, finacing, news, yacht clubs, out boards, dry boat storage, racks, boat insurance agency, elliot bay, poulsbo, internet service, boat charters, boat launch, ballard locks, dinning on boats, dinner cruises, resturants, nexus, vessel assist, USCG, tenders, dingys, docks, puget sound, san juan islands, gulf islands,  marina parks, yacht clubs, permits, seafair, motors, weather, nexus, notice to mariners, navigation, opening day, Herbert Yachts Seattle Dave Boynton

Seattle Christmas Ships Festival from 2012

Source: Matt Daniel

Port of Seattle Purchases Salmon Bay Marina

Source: Port of  Seattle News Release

December, 2017 – The Port of Seattle

Commission voted to purchase 

Salmon Bay Marina, located on the Ship 

Canal adjacent to the Port's Fishermen's

Terminal facility. The five acre property

contains five docks supporting 166 slips

measuring 6,547 lineal feet of moorage

on freshwater. The purchase price was $15,679,120.

There are a number of potential uses for the property, including light industrial facilities that could support maritime and manufacturing companies in the area.

"We applaud the Port of Seattle for purchasing and preserving this unique freshwater recreational boat facility," said Peter Schrappen, Director of Government Affairs for the Northwest Marine Trade Association. "These assets are rare, and help maintain maritime and family-wage jobs."  
More details here...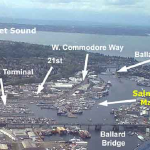 Upcoming Events Around the Sound:

Christmas Ship™ Festival 

Nov. 24th - Dec. 3rd, 2017

The Festival is a ship-to-shore

holiday celebration that has

been a Northwest tradition since

1949.  

The Spirit of Seattle, the Official 

Christmas Ship™ is decorated with hundreds of shimmery white lights and sails to different Puget Sound waterfront communities – around 65 in all.    
More details here
...
    Quick Links: Important Links for Boaters: